All About Modified Bitumen Roofing Systems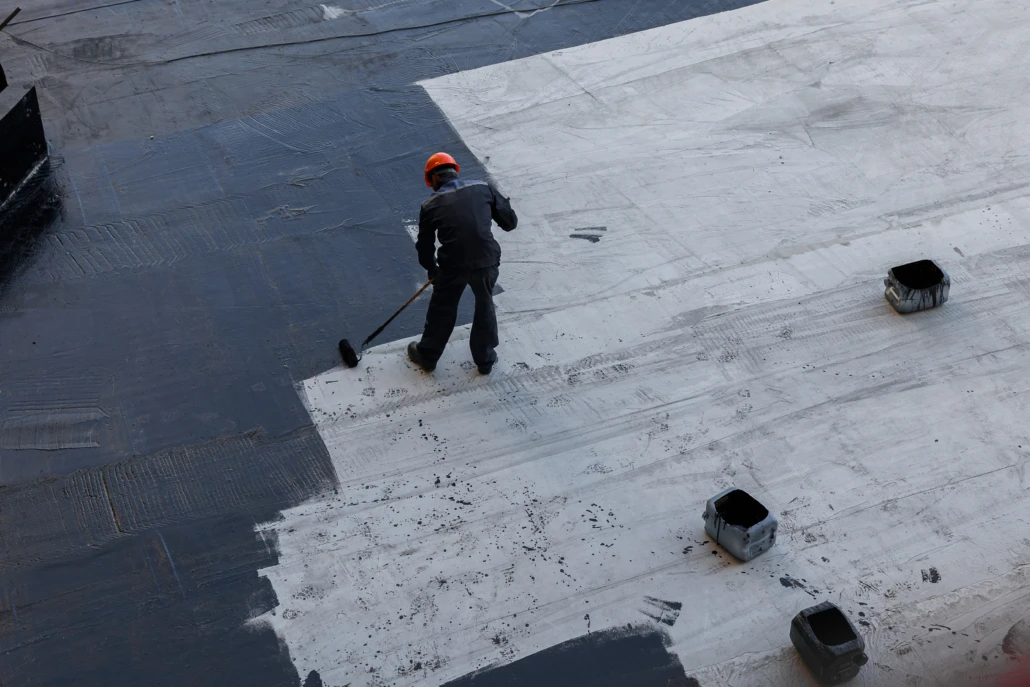 A modified bitumen roof is an evolutionary roofing material referred to as a close cousin of a built-up roof (BUR), which has been used for over 100 years. Modified bitumen materials are considered durable and long-lasting in the flat roofing systems category.
A1 Roofing has the expertise you need for your commercial roofing project. When you need a commercial roofing contractor that has experience with all types of roofing materials, A1 Roofing is the place to call.
What Is a Modified Bitumen Roofing System?
A modified bitumen roof is known for weather resistance, including being waterproof, undamaged during high winds, and durable in the midst of ice and snow.
Modified bitumen materials comprise a series of layers to ensure ultimate quality:
Insulation for temperature stability in the heat and ice
Base Sheets to serve as a foundational layer
Modified bitumen roofing membranes are fabricated sheet membranes reinforced with fiberglass or polyester
Waterproofing in a hot or cold adhesive to ensure the modified bitumen roof protects from moisture
Surfacing is a cap sheet to provide UV protection and weathering resistance
When you put all of these layers together, it makes a modified bitumen roof that is sure to protect your commercial building through the most extreme situations. A modified bitumen roof checks all the boxes if you need a tried-and-true solution for your flat roof issues.
Types of Modified Bitumen Roofing Systems
In the United States, there are a few types of mod-bit roof systems. The application methods vary as well. Here are some of the types of membranes used for a modified bitumen roof:
SBS (styrene-butadiene-styrene) – This rubberized asphalt material is used on roofs that will be exposed to extreme temperatures and high winds. The durable material exhibits incredible elasticity and flexibility. It is easy to install and creates a leak-proof flat roof for your commercial building.
APP (atactic polypropylene) – This membrane material is referred to as plastic asphalt. Asphalt is mixed with a plasticized polymer to create a waterproof, long-lasting roofing material. The polymers expand at higher temperatures for better coverage. If you compare APP with SBS, APP offers better UV protection.
Once you choose the right kind of modified bitumen roof, the team has a choice of how to install your commercial roof:
Heat-torch welding
Cold adhesive
Self-adhering membranes
Speak with your contractor about the different installation methods. A1 Roofing can offer expertise regarding your commercial building and the best kind of mod bit roof and installation specific to your needs.
Benefits of a Modified Bitumen Roofing System
Compare modified bitumen roofs to other asphalt-based roofing, and there are some clear benefits. Modified bitumen roofs are growing in popularity for good reasons.
Leakproof: The multi-layered system is waterproof and is not vulnerable to gaping, tears, or cracks.
UV and Heat Resistant: The UV protection layer keeps the modified bitumen roof in excellent condition during high-heat summers.
Durability in Extreme Weather Conditions: Wind, hail, ice, and snow have nothing on this roofing system. It is built to last through all of it.
Seamless Connections Between Sheets: The installation methods provide seamless connections, so no gaps are present for cracks or pests to exploit.
No Tearing: The rubberized material cannot easily tear through all the layers.
Color Options: Choose a cap sheet that matches the aesthetic of your building.
Easy to Repair and Install: A mod bit roof is easy to maintain after installation. If any repairs are necessary, they are easy to complete.
Recyclable: The materials can be used again in other instruction projects, so you do not have to worry about the roofing material filling up landfills after you are done with it.
With all these benefits, modified bitumen roofing is the solution to flat-roof commercial buildings. The durability of the materials and minimal maintenance needed guarantee that you can fix your roof and not have to think about it for years to come.
The Lifespan of a Modified Bitumen Roofing System
A modified bitumen roofing system will last about 20 years. And it has a competitive cost per life cycle for commercial roofs. You do not have to worry about leaks, fire hazards, or fixing the roof after a spout of high winds.
Choose A1 Roofing for your modified bitumen roof installation to ensure that proper installation leads to an extended life for your roof.
What Maintenance Is Required for a Modified Bitumen Roof?
The rolled roofing material patches quickly if any damage occurs. It requires minimal maintenance so that you can enjoy the benefits of a protected commercial building without managing leaks, tears, and peeling.
Choose a Reliable Roofing Contractor for Your Modified Bitumen Roofing Installation
As a building manager or owner, commercial roofing is a significant investment. You want to invest in a type of roofing that lasts. A modified bitumen roof is your answer. The durability-proven layers will protect your commercial building from leaks, ice damage, and pooling water.
A1 Roofing has the expertise to install your commercial building roof. Whether your building is new or needs a total roof replacement, we are on the job. Look to A1 Roofing to practice professionalism in communication, timeline requirements, and safety practices. Our team is ready to deliver top-quality services for your commercial roofing needs– reach out to us today.