All About Single Ply Roofing Systems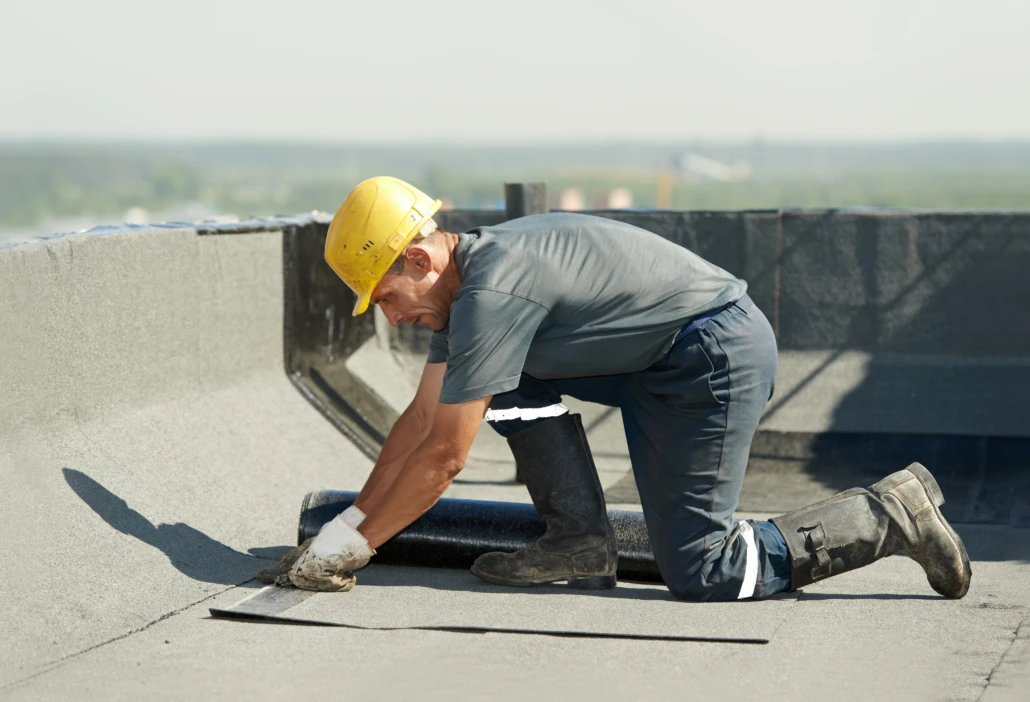 Are you in the market for a new roof? Out of all roof systems, which flat-roof solution is the most effective? We will discuss single-ply roofing systems and what you can expect when you choose single-ply roofing systems for your commercial building.
A1 Roofing is a reputable roofing company serving Long Island, New York City, Westchester County, Northern NJ, and Southern CT. If you want quality combined with experience and affordable pricing, choose our team to take care of your commercial roofing project.
What Is a Single Ply Roofing System?
Single-ply roofing systems are a popular roofing option for flat roofs. The synthetic rubber is rolled out over large rooftops, providing leak-proof, fire-resistant protection.
The roofing membranes can be applied in many ways. Depending on the type of roof, you may choose mechanical fastening, ballasted, fully adhered, or metal retrofit.
Ballasted – This quick and easy installation is perfect for large, open rooftops. Lay the single-ply roofing systems out, fitting them perfectly to the open space of the roof.
Mechanical Fastening – This is an upgrade from ballasted roofing. Use mechanical fixtures to hold the roof in place.
Fully Adhered – Use adhesive to attach the single-ply membranes to the rooftop. This is an excellent choice for areas with high winds.
Metal Retrofit – If you have an outdated metal rooftop that no longer functions well for your building, you can throw the single-ply roofing systems right on top of the metal roof to add protection and weather durability to your facility.
Types of Singly Ply Roofing Systems
Let's review the most common types of single-ply roofing and which materials are best used for each commercial building location and circumstance. Choosing the right type of roof for your commercial building will free you from maintenance and repair issues in the future.
Polyvinyl Chloride (PVC): PVC resists chemicals, wind, moisture, and fire. It is light in color, reflecting the heat and keeping your air conditioning costs down. PVC is an excellent single-ply roofing system for restaurants, small commercial buildings, and warmer climates.
Thermoplastic Polyolefin (TPO): TPO offers the most UV protection out of all single-ply roofing systems. The thermoplastic membranes come in 20 feet rolls, making it easy to apply to your roof without seams. The contractors use hot air welds for the seams to meet without gaps for buildings over 20 feet wide.
Ethylene Propylene Diene Monomer (EPDM): EPDM is the ideal roofing material for large commercial buildings since it is available in large rolls.. It is a synthetic rubber that is durable under extreme weather conditions.
Which type of single-ply roofing system is right for your commercial building? Discuss the details with A1 Roofing before you start on the project.
Benefits of a Single-Ply Roofing System
Single-ply roofing systems have many benefits, making them a sensible option for commercial roofing. Here are a few to discuss:
Glowing Track Record: EPDM roofing has been on the market for over 60 years. Commercial building owners love the material and have glowing reviews for the product. TPO single-ply roofing is newer and still in the testing stages, but it has also proven to be a reliable choice for flat roofs.
Lightweight and Easy to Install: Single-ply roofing systems are lightweight, flexible, and easy to work with. Because of this, the installation charges are more affordable.
Durable Through Weather Changes: When snow, ice, and heat blow through town, the roofing materials hold up well.
Resistant to Wind, Fire, and Chemicals: You want to choose a roof that will last, even when the unexpected occurs. If your building is exposed to a fire or chemical spill, will the roof survive? With a single-ply system, it will!
Choices Between Light and Dark Roofing Materials: Depending on the exposure your building gets to the sun, you can choose a light material to reflect the sun's heat. Or you may choose a darker membrane to absorb the heat.
Single-ply roofing systems have been used on commercial buildings for decades. Why not choose a material that is tested and proven successful? A1 Roofing can help you customize your single-ply roofing options to maximize the longevity of your commercial building.
The Lifespan of Single-Ply Roofing Systems
Many low-slope roofs come with warranties on the roofing. You will find the cost-effectiveness of single-ply roofing systems to be appealing. Expect most single-ply roofing systems to last at least 20 years.
What Maintenance Is Required for Single-Ply Roofing Systems?
For single-ply roofs, the maintenance is minimal. The single-ply roof membrane is easy to patch if there is a crack or tear, but repair needs are rare. The materials are durable and resistant to tearing or leaks.
If you need maintenance on your commercial building, talk to A1 Roofing about the existing roofing material and how we can help. It may be time to invest in single-ply roofing systems that are easy to install and maintain.
Work with an Experienced Roofing Contractor to Install Your Single-Ply Roof
At A1 Roofing, you can trust our experienced roofing contractors to help you choose the right single-ply roofing systems for your commercial building. Do you want to know about the installation process? When you have an expert team like A1 Roofing on your side, you can be confident that the roof will be installed correctly. After our contractors complete the job, you can also count on minimal maintenance and increased durability.
Are you ready for a total roof replacement in your commercial building? Contact A1 Roofing to complete the job on time with integrity and safety. Start your worry-free roofing project with A1 Roofing today.