5 Special Features to Consider When Installing Your Residential Roof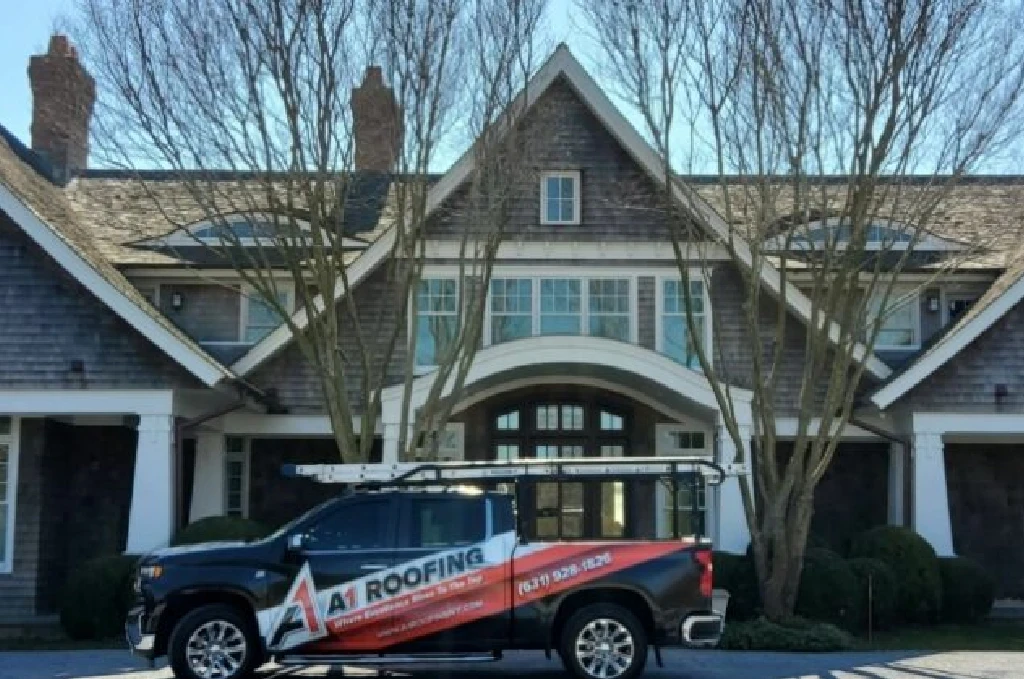 A new roof design for your house has the potential to transform your home from bland to breathtaking. Common roof designs include sloped roofs, metal roofing, flat roofs, and other designs. What features can you add to your roof to modernize it?
At A1 Roofing, you can count on an expert team of residential roofers to install a roof that increases curb appeal and protects your Long Island home from extreme weather, fire, and pests. Read on to learn about special features for your new roof design.
1. Hidden Roof
Among the variety of roof styles is hidden roofing. This modern look happens when your home and roof meet in a seamless transition. Your home is interesting enough without a dramatic roof detail. Instead, the roof blends in and is constructed using metal panels, shingles, and other roofing materials.
Hidden roofs are easy to construct but do not last as long as slanted roofing. If you are committed to a hidden roof for your new roof design, be sure to sign up for regular maintenance visits to ensure no gaps or pooling water happens. Gutters around the hidden roof can meet up with the existing gutter system to distribute water evenly and avoid flooding.
This popular roof style takes special care to create a roof that fits perfectly. This best works on home designs that are dynamic enough that a gabled roof or slanted shed roof would detract from the design. Hidden roofing is one way to implement a new roof design that is modern and sleek.
2. Solar Shingles
Solar shingles are a modern roof option that provides durable roofing while promoting energy efficiency and reducing your carbon footprint. Choose solar shingles to use the renewable energy of the sun. Your solar shingles will convert energy from the sun to power your home.
Solar shingles do not require solar professionals for installation. Instead, our qualified team at A1 Roofing is certified in installing solar shingles with just as much expertise as we have when installing asphalt shingles and other roofing materials. We'll ensure that your existing roof can withstand the weight of the addition of solar shingles.
Solar shingles have a sleek and modern design to blend in with your roof and not detract from your roof design. While solar panels can look bulky, solar shingles lay flat on your roof without affecting the overall curb appeal of your home.
Solar energy is beneficial to the environment and sought after by homeowners. When you install solar shingles, your home appreciates by $15,000 or more. Your home will sell more quickly and for more money when you have solar shingles on your home.
3. Fire-Resistant
It's vital to your home's safety to choose roofing materials that will not fuel a fire. House fires are scary and dangerous. You can lose everything when your house goes up in flames. When you use roofing materials that are fire-resistant, you can save your house from quickly burning during a fire. Even slowing down the flames could make or break the possibility of saving your memories.
When the roof is fire-resistant, it will not contribute to spreading the flames. For example, when a fire reaches a slate roof, the fire stops there. It does not zip along the material to flourish onto the rest of the house. A fire-resistant roof is an essential aspect of your new roof design.
Consider each type of roofing material and its resistance to fire. Metal roofs, clay tile roofs, slate roofs, and gable roofs with asphalt shingles are all fire-resistant. Which style will upgrade the look of your home? Take these into consideration when planning for a new roof design.
4. Dormers
Dormers add architectural value to your home and can even make for an excellent attic addition. Have you seen dynamic dormers that complete a cottage look to beautiful homes? Dormers are square windows coming up out of gable roofs. Install this new roof design for an aesthetically-pleasing statement piece that will surely increase your curb appeal.
In addition, build out the attic with dormers to enjoy the extra space in an attic playroom or slanted roof bedroom. The windows bring in much-needed light and offer more area to stand up straight as you walk along the slanted room. Dormer roofs can be functional and cosmetic.
5. Self-Regulating and Connected Heating Technology
Do you know how much pressure ice and snow accumulation can put on your roof? A modern home with green roofs or luxury roofing materials can still suffer damage from heavy ice and snowfall.
When you install self-regulating and connected heating technology to your roof, the system will detect snow or ice and automatically release heat to melt the load off your roof. When the heavy snow drips away immediately, it will not put pressure on your gutters, roof seams, and corners.
Water can get into a minor crack in your roofing material and freeze to enlarge the gap beyond repair. With heating technology, you can rely on your roof staying warm when there is a potential for freezing damage. In addition, the weight of ice on your gutters and roof edge impacts the structure when it's under so much pressure. Allow the heating system to eliminate the threat of heavy ice and snow buildup.
Your new roof design can be stunning and infused with modern technology. Take advantage of what technology has to offer without having to sweep off your roof during snowstorms. Instead of putting your home at risk, invest in self-regulating and connected heating technology.
Consult a Long Island Residential Roofing Contractor Today
A1 Roofing is familiar with all options for a reliable and gorgeous new roof design. Is it time to replace your roof or design an innovative roof for your new home? Consider these options and talk to our roofing experts to decide the best roofing materials for your home.
A1 Roofing is a trusted name in the industry, always informed on new materials like solar shingles and heating technology. Is your roof ready for a total makeover? Invest in your home's curb appeal by choosing a new roof design that will impress the whole neighborhood.